"It is a great honour for me to be producing the third season of the local program, The Active City!  The active ambassadors are in and now we are looking for some brave, new recruits to share their story.  Check it out!"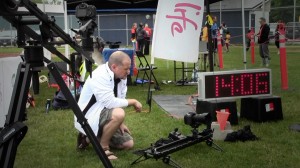 Thanks to Active Cambridge and the Ontario Trillium Foundation, The Active City is back for Season 3!  The goal of the new season is to challenge some returning active partners with a new mission:  to take a new recruit to their activity and follow the journey through to measured success.  The people and the stakes are real.  Watch as some amazing local people of all ages embark on a new active journey and pave the way for others to follow.
EPISODES IN DEVELOPMENT:
September 2013 –
ADHD is the most commonly diagnosed disorder in children and adolescents affecting 6 to 6 percent of the population.  Watch as a new karate kid fights back and finds new hope through martial arts.
October 2013 – NOW RECRUITING!
The pressures of work and family can often lead to a black hole of inactivity.  Join a local Dad as rows his way to fitness and takes on the Head of the Trent Regatta as a beginner; proving that NOW is the time to be active.
November 2013 – NOW RECRUITING!
Balance is key to life both figuratively and literally.   Follow the new journey of a local 65+ woman with Osteoporosis who reclaims motion, balance, and control through a new friendship with Yogi, Mike Chapman.
December 2013 –
We've all heard the phrase "Supermom" but is it the truth?  After giving birth only 3 months prior, a new mom challenges herself to become a new runner.
February 2014 – NOW RECRUITING!
Drop out rates soar as children become young adults.  Can the lure of an Olympic sport bring one youth back from the brink?  Just in time for the Winter Olympics witness the fast-paced world of speed skating.
March 2014 –
After every Olympics a new flame ignites for the Paralympic Games and shines light on amazing athletes who overcome disability to reach amazing heights in sport.  Join the Sidewinders Hockey Team to see the grassroots development of sledge hockey.